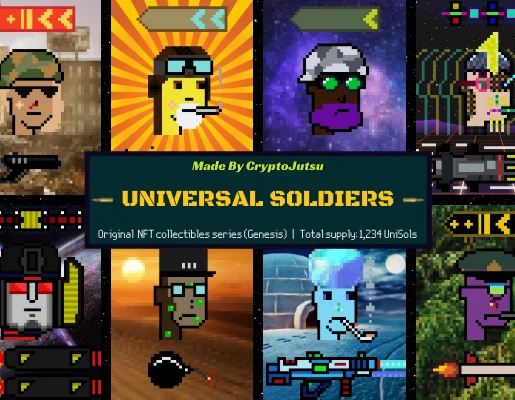 minting
Universal Soldiers
Universal Soldiers nfT Details
Universal Soldiers is a pixel art NFT series made of 1,234 soldiers to collect – all 1/1 editions. Each soldier – called UniSols – has up to 14 properties (except for the 34 Special Editions that can have more properties).
We established the rarity profile by developing our own proprietary code: 1,200 combinations were algorithmically generated to obtain the UniSols (the 34 Special Editions were created separately). Each UniSol was then handcrafted with care.
Universal Soldiers is an OG NFT series made by CryptoJutsu. It was made early 2021 and dropped in two batches for Presale: Aug. 14th, 2021 & Dec 30th, 2021. 20% of the NFTs sold.
Now, the remaining 80% will be available for free mint on OpenSea.
Drop date: Sept 17th 2022.