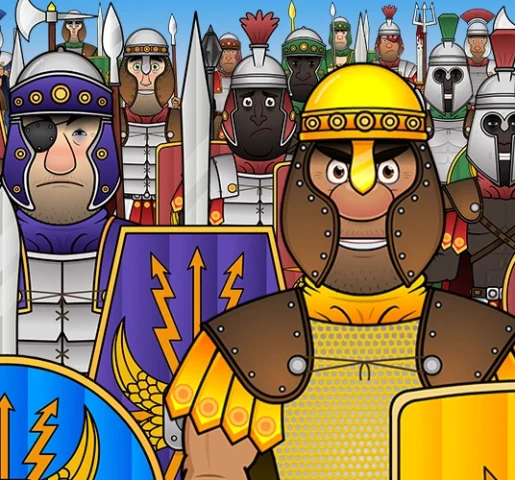 minting
YourLegion
Welcome To Yourlegion.club
Minting Thursday 1st September
Welcome to YourLegion.club, the home of our first NFT collection; Roman Legionaries. 10,000 unique Roman Legionary concept character NFT's soon to be available to mint on our website and to buy on the Opensea.io marketplace.  We created the collection to admire, hold, trade and to explore gaming potential on Web3.  Production is complete and the mint starts on 1st September!
The Collection
The Roman Legionaries are randomly generated using multiple hand drawn elements so that no two are the same. Seniority of character and uniqueness of weapons, armour, jewellery, accessories, and injury determines rarity, plus numerous expressions and outfits add to the mix, making some characters more desirable, depending on personal preference. There are millions of potential character variations.
Premint Allowlist Registrations Now Open!
We are now collecting registrations for the PREMINT Allowlist!  To register, visit https://www.premint.xyz/yourlegion.
Registrations close 31st August.
The Allowlist is over subscribed. Mint spots will be allocated by raffle and winners notified by PREMINT.  NFTs will be available after the Guaranteed mint period. If you register using the PREMINT link, you'll get access to the Waitist before the Public mint.
• Guaranteed Allowlist spots are available to winners at 0.01 ETH.  Max 3 mints per wallet.
• Waitlist places will be available for registered wallets that didn't win a guaranteed spot at 0.015 ETH.
First come, first served. Max 5 mints per wallet.  Arrive early!
• Public mint. Any wallet can mint in this period at 0.02 ETH. Unlimited mints per wallet.
Allowlist Mint starts Thursday 1st September 5PM UTC time / 4PM UK time / 11AM Eastern Standard Time
Waitlist Mint starts Thursday 1st September 10PM UTC time / 9PM UK time / 4PM Eastern Standard Time
Public Mint will follow the Waitlist Mint.
Email confirmation about your Mint list status will be sent from PREMINT.
Ukraine, Charity And Accountability
As we were developing the Roman Legionary character concept, Russia had amassed an army on Ukraine's border and shortly after that, the invasion of Ukraine began, leaving millions displaced and thousands dead or injured. We wanted to help in some way, so we have given 10% of the collection a Ukrainian theme, and 10% of sales will be gifted to support those affected by the war.
You'll see special Ukrainian concept characters wearing the blue and yellow of the Ukrainian flag, and carrying conventional Roman and contemporary themed weapons that have made the news headlines in recent months; Molotov Cocktails and NLAWs. 10% of the sales proceeds from the collection will be donated to Ukrainian relief organizations via The Giving Block. All donations will be shared on our social media accounts to provide accountability for donations.
YourLegion.club is not affiliated with or connected to The Giving Block; we chose to donate through them because:
1) They appear credible.
2) They have a specific Ukraine Emergency Response Fund.
The decision to donate through The Giving Block will be reviewed by the community on our Discord channel post Mint.
The Ukrainian themed Roman Legionaries have the same utility as the rest of the collection.
For details of the excellent work undertaken by The Giving Block please visit https://thegivingblock.com/campaigns/ukraine-emergency-response-fund/
Roadmap & Future Projects
We love the Roman Legionary character concept and we're determined to take our Legionaries into the Metaverse. We have plans for other "Legions" too, each based around fun character concepts that have gaming, community and charity potential.
All holders of Roman Legionary NFTs will be given priority when it comes to future NFT collection drops at YourLegion.club.
Game Concept
Post-launch of the first collection we plan to develop a viable game using Sandbox to demonstrate the opportunities available. Our concept 3rd party game example makes use of rocket launchers resembling the NLAWs that are carried by some of our Ukrainian themed NFTs.  Your NFT would  be your entrance ticket to the game.
Revenue And Utility
Post-Mint and hand-in-hand with the gaming concept, we are exploring NFT staking as a means to generate revenue through holding your NFT. Your NFT will be your entrance ticket to the Game server and if you're not gaming, our aim is that you can stake your NFT to allow others to game; more "paid not to play" than "earn while you play"!
Merch
We are currently implementing a DTG (Direct To Garment) Printing function so that you can enjoy your NFT on Hoodies and T-Shirts. We have confirmed a reputable and reliable supplier who uses eco friendly inks and 100% organic and sustainable fabric. Shipping is Worldwide and the service will be available in time for mint.
Follow & Connect
Follow us on Instagram for news and updates. All donations will be posted.
Connect on Twitter and have a say in the community. All donations will be posted.
Visit the live collection on Opensea.
About
The YourLegion Team is headed by John Thatcher and includes several interested advisors and specialists. You can view John's personal Twitter profile and his personal LinkedIn profile on the website. To make contact with John or the team please use the form on this page and we'll aim to reply within 24 hours.
Editor note:
This project claims to raise money for providing financial aid to Ukraine which is now suffering from Russian aggression.
Please note that you are sending money to a third party whose further actions are out of our control. NFT Calendar can't guarantee that funds will be sent to the charitable organisations.
If you are willing to directly support Ukraine with crypto, we have created a list of funds you can donate to.