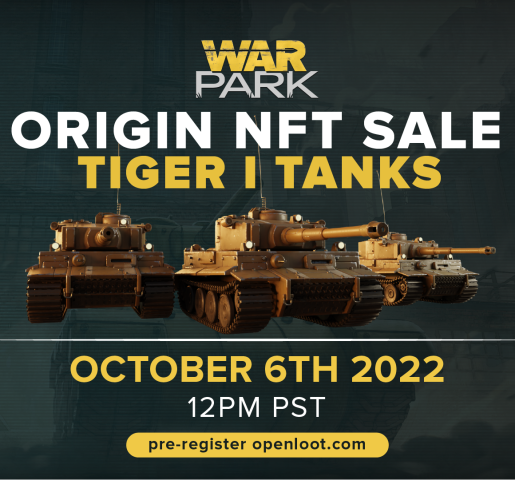 War Park 'Tiger I' Origin Sale
Project Details:
BLOCKCHAIN: Ethereum
COLLECTION COUNT: 960
PUBLIC SALE PRICE: 40 USD
PUBLIC SALE DATE: 10-06-2022
Project Links:
War Park 'Tiger I' Origin Sale NFT Details
On October 6th, 2022 (Next Thursday) at 3pm EST, War Park will be hosting their first Tank sale, starting with the historic 'Tiger I' tank available shortly in its exclusive Origin Sale debut. A high damage, highly armored ruler of the battlefield and every commander's best friend.
As a reminder for those who are new, War Park is a mix between Brawl Stars and World of Tanks, with game modes like deathmatch, capture the flag, king of the hill, point capture, and more. Players take part in an ever-changing battlefield for control of essential resources across — Pit War Park against War Park in thrilling large-scale competitive battles and events.
Everyone can play for free, but owning Tanks puts you in control. Tanks unlock the ability to meaningfully participate in the game's economy on various levels. Tanks provide multipliers on resources won in battle, economic progression, and much more. The higher the rarity, the higher the multipliers!