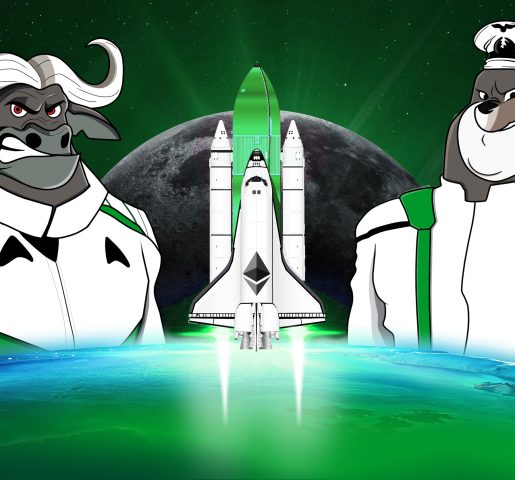 Nifty Heroes: Mission Moon
Project Details:
BLOCKCHAIN: Ethereum
COLLECTION COUNT: 20000
PUBLIC SALE PRICE: 0.1
PRE-SALE PRICE: 0.1
PRE-SALE DATE: 09-26-2022
PUBLIC SALE DATE: 10-01-2022
Project Links:
Nifty Heroes: Mission Moon NFT Details
Nifty Heroes: Mission Moon is an exclusive interest-bearing NFT collection from trading platform IQDAX packed with unique utility features and stunning rewards.
Nifty Heroes are furious, artificially-bred species living in the Ethereum universe.
Since ancient times, Nifty Bears are fighting Nifty Bulls for dominance in the open space for the extraction of precious Ethereum, creating all kinds of obstacles so that all the attempts of the Bulls are in vain.
Nifty Bulls win temporary victories from time to time, using various improvised methods and means, as well as cunning and unbridled rage, but the Bears always seek to stop them in their attempts to take off above the Earth's atmosphere.
All previous attempts by the Bulls to get out into the outer space went under the strongest onslaught of the Bears and were only temporarily successful.
As a result, the command of the united grouping of the Bear Forces decided to create five unique combat-ready teams to participate in a special operation under the code name "Mission Moon" in order to get to the moon and establish constant control on it for further transfer to Mars.
Meanwhile, a symmetrical response was prepared by the Bear military group in the form of five analogous tactical commands created to prevent the transfer of the Bulls to the Moon.
Now only time will determine the winner…