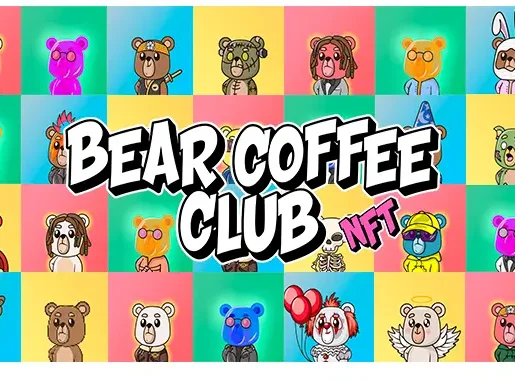 minting
Bear Coffee Club NFT
Bear Coffee Club NFT Details
Bear Coffee Club (BCC) NFTs is a collection of 10,100 computer-generated unique NFTs living in the Ethereum blockchain. BCC NFT has many rewards, especially for early adopters, you will be part of a wonderful project that includes P2E game, Airdrops,  DAO and many things that will be revealed along the way.
Chapter 1: Save Bear Island
In a common day the unexpected happened, for the first time the inter-dimensional portal to bear island opens, and a crew of bears decides to cross it and land unexpectedly in a coffee shop, forever uniting the two worlds that had been shut from each other since antiquity. The story does not end here until Nostradamus' prediction of the Zombie apocalypse comes to pass. In season 2, Zombies begin to appear on Bear Island, introducing patient 0 into the initially peaceful and healthy environment. The Bear Virus takes over the island and spreads rapidly. If an action is not taken immediately, everyone will soon be a Z patient.
You can Save the Bear Island
Some bears have not been affected yet. However, they will certainly be affected soon if they remain there. You have the chance to get the bears out of the island. You only need to mint them out beginning Q4 2022. There are 10,100 Bears longing to get out of the island. The more you mint and bring to the coffee shop, the more you save. Sign up for the upcoming public launch and help the Bears gain their glory days and save Bear Island!
WL Presale : 0.08 ETH
Public Sale:  0.1   ETH
Get Your WL Spot